I've written about neutral gardens and those inspired by the Belgian Beige movement and right now I'm into white. Maybe I'm attracted to it for external reasons-because summer is almost at an end and knowing the bit about white only being worn between Memorial and Labor Days.  There are warm nights still and white still intrigues me…it's also an excellent partner with green. There is a lot written about white gardens from a planting perspective, but not much about the rest. This is about the rest.
We know that white  can make a dark space seem lighter.  It can also add drama to an otherwise lackluster space.  Washable materials make this color easy to use outside, fading isn't an issue obviously.
Simple and geometric this patio is surrounded by green and is restful and stylish.  In fashion, winter is also a time for 'Winter Whites', but it would be a simple thing to switch this fabric seasonally if white appears too summery outside.
White can be simple and rustic, and is an easy partner with other neutrals.  It can work in just about any style of garden.  Beyond the classic white fence, white can be carried through in accessories of all kinds on just about any style of patio or deck.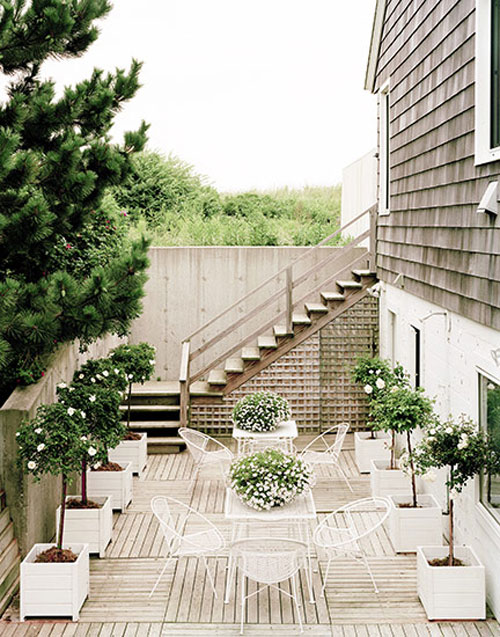 Just like any other color, there are many variations of white.  Sample of colors as well as what will be adjacent them are important and especially before choosing a white.  White will reflect what's around it and even the original hue can be pink or blue based yet look like a stark white unless it is  placed in context. 

I'll be back on the flip side of Labor Day…wearing white of course!