Earlier this week I attended Blogfest 2011 in New York with 120 design and lifestyle bloggers.  We attended to learn more about design, publishing, resources and each other.  I was the only landscape designer in the group and that's why I went–it's important for me as a designer to continually look beyond my own discipline and push and stretch those boundaries.
At the end of the first day, we were invited to the Elle Decor Modern Life Concept House.  I headed out to the terrace before anyone else to get some beauty shots.  I was able to get some photos and speak with Todd Nickey, the designer.  Nickey partnered with Restoration Hardware to create a long and narrow urban terrace.
Part of the space was contemporary and featured Extremis furniture (which I've written about here before) and the rest was much more traditional.  It didn't work as a unified space.  It was overcrowded and chock- a-block with stuff.  Try and have a party out there and the humans would be squeezed.   The scale and flow outdoors is different than inside–even on a terrace.  That's why  landscape designers need to work together with interior designers and architects to create seamless and appropriate spaces for total residential living–inside and out.
I did like the contrast of the contemporary planters with the wood table,  Irish moss (Sagina subulata) and Hens and Chicks (Sempervivum) are a combination I wouldn't have thought of.  I also liked the shots of sunny yellow throughout which did help to unify the long view.
I  flipped for these wing chairs from Restoration Hardware.  They were whimsical and fun.  I hadn't seen them yet in person yet…although I might be tempted to paint them if they were mine…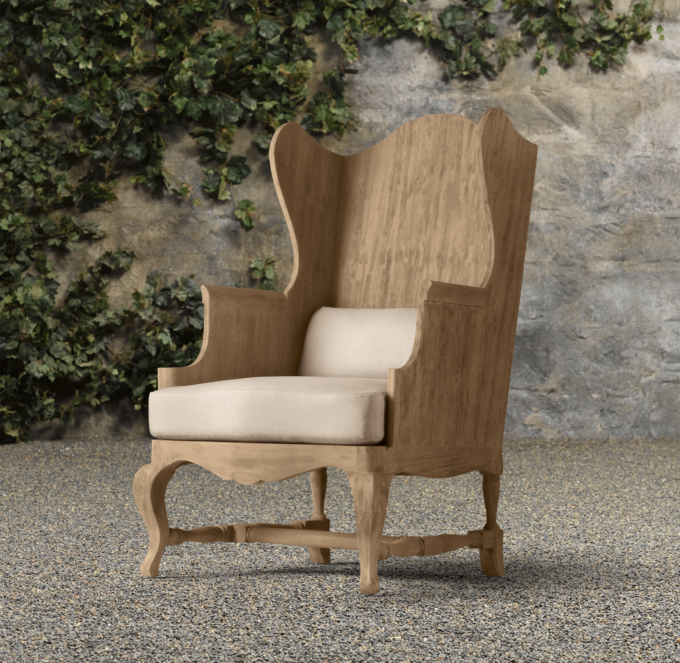 I'll probably post some more ideas from this experience next week but for now I have to catch up on work with clients and projects that I missed…