I've seen rumblings of an unexpected garden color trend.  We love pink flowers in our beds and borders, but not so much in other areas.  Maybe it's just too gender charged, maybe it's just too unexpected, but for whatever reason it we don't use it.  For those in the know, like Steven Elton of Brown Jordan, who I heard speak in Chicago two weeks ago, pink garden accessories and furniture was an emerging trend in the European markets.  Actually, if you follow trend forecasting, pink has been bandied about for a few years.  So I decided to explore the possibilities…in the pink!
Pink walls in bold graphic stripes make a dreary courtyard pop with unexpected color.  The pink is picked up in the table settings.
The reintroduction of Schiaparelli to the market next season makes a stylish case for pink.
Her famous 'Shocking Pink' may seem that way in the garden, but it's really not.  It can be dreamy and restful also.
 Or it can make a big energetic and contemporary statement.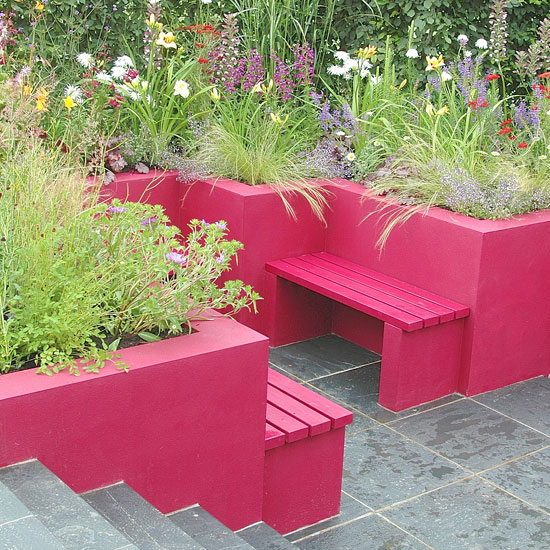 Some pinks to try painting a fence or garden wall.  Left to right:  Farrow and Ball/Cinder Rose No. 246, Behr/Fuschia Kiss 100B-6, and Benjamin Moore/Hot Lips 2077-30.
Here's a corresponding Pinterest In the Pink inspiration board that just makes me happy!