I'm working with a landscape design client who has a limited budget and a concrete patio that will be re-furbished.  Although she opted for paint and a fun outdoor rug, we discussed the option of stenciling an ornamental (read not stone or brick) pattern on the pad instead.
It's not often that there's a technique so transformative that it can be a  simple DIY project or an elaborate professionally done detail.  To start–a Before and After from Grace Reed a professional faux painter from Dallas.  Why not set the bar high?
And after.
The same pattern was used by artist Ray Redondo as a detail.
These patterns can be complex or simple, rustic or sophisticated. Some ideas can be easily achieved.  The concrete has to be cleaned and prepped before any stenciling is done, otherwise it won't last.  There is a great breakdown of the process on Concrete Network and there are YouTube tutorial videos there also.
Road and parking lot symbols are stenciled.  Here's a take on a word stencil.  A simple hello..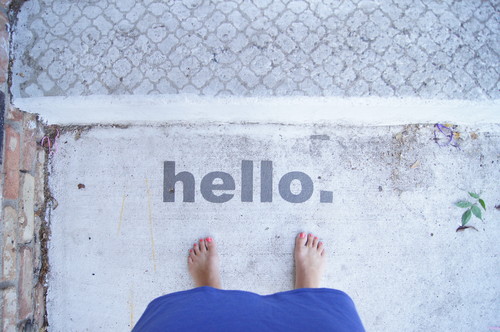 Simple and elegant organic floral motifs that peak out from the sides of a space…
…or take the same idea and create an allover pattern.  The one below is from Royal Design Studio.
Get inspired by street art stencils and graphic patterns.  Banksy uses stencils.  Polish street artist Nespoon uses doilies as inspiration and stencils.
A further interpretation of this idea is a single color stenciled rug.  The one below found on Pinterest and the one above are stenciled on top of concrete paving.
Small medallions can be used to break up a solid block of color or again, used as an all over pattern.  This is probably the simplest of all the stenciling techniques.  The two below are from Design Sponge and the Los Angeles Times Blog.
I really wish that I'd had the opportunity to explore these first hand on a project, but I will with another client on another project!
Related posts: