Bees are in the news, so it's totally understandable that bees and bee things should emerge as a garden trend. Recently I saw a wonderful hose pot in a garden I was visiting and have tried to no avail to find it.
So that leads to honeycomb.  Artist Laura Kramer's crystal encrusted wasp combs were on display when I was last at ABC Carpet and Home. Once I saw them, I started seeing honeycomb patterns everywhere.  I don't think it's just the power of suggestion…
Honeycomb patterns have been happening in fashion and interior design for a while so why not gardens?
Top image via Gucci , bottom image  via CamPierce
It's a small idea that can add nature's geometry to traditional or contemporary garden styles. The pattern can apply to tiles, trellises, fabric and rugs, and even furniture.  A few ideas…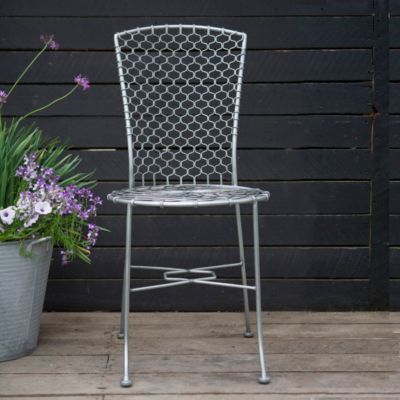 Honeycomb wire chair above via Terrain.  Honeycomb modular wall trellis via Flora below. (These are available at  Jungle, BTW)
Old is new, and honeycomb hexagonal terracotta tiles are right on trend.  The yellow outdoor fabric sports a variation on the theme.  And the turf tiles in the very bottom image of a small Paris garden via (translated)  The Yellow House on the Beach are an original take on honeycomb.
If you want more ideas, I've assembled a Pinterest board just for honeycomb inspiration.